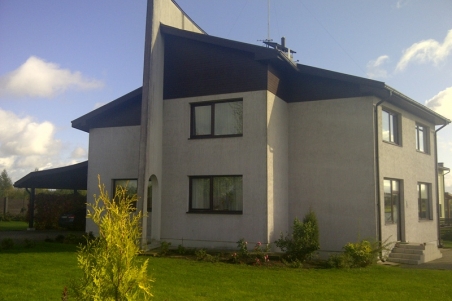 For sale - house in a beautiful location on the banks of the Daugava River.
The house is in excellent condition. Spacious lounge, kitchen, 3 bedrooms, loft (3rd floor), office, dressing room. 2 bathrooms, a sauna, heated floors. Cozy gazebo. Automatic gate. Alarm. Combining.
The house is built by design of architect Janis Rinkevich. Excellent panoramic view. Quality construction and architectural design inside of the huse. 18 minutes drive from the old Riga, 20 min to Jurmala and the airport. Beach in a 3-minute walk from the house.
Very economical off-line liquid heating (0, 60 lats per 1 m2 of hot water and underfloor heating - this is a good solution for Latvia, because the bills for central heating and hot water is very high). Own needle (water).
Kitchen and bathroom from the newest materials. New plumbing. The house comes with furniture, appliances and interior details.