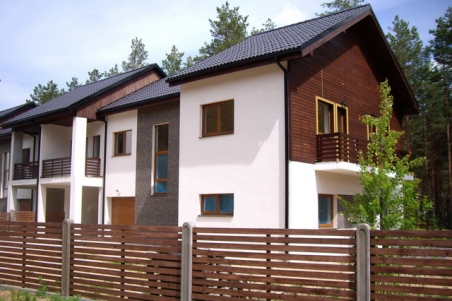 New house in "Cits Mežaparks" ("Other Mezaparks") village. Located in the pine forest.

In the village are all the city communications, spacious (10m), pave streets, freshness. Only 20 km from the center of Riga and 12 km from Riga border. Good infrastructure- adjecent to shops, kindergarten, school, hospital.

Public transport.

The house was built according to the latest energy efficiency technologies (high heat to the floors, attic, first floor; floor heating in bathrooms, gas heating system with automatic system, six-chamber windows with PVC).

The roof is exposet with the German clay roof tile. Decorated using high quality materials. Wooden floors and doors. 3 balconies. Sauna.

The house is equipped with safety systems including fire alarm.